Intelli Water GIS Desktop Platform
1.Water Asset Reporting Module
Various weekly or monthly reports can be quickly generated for operational and management reviews, Water Treatment plant production, water quality, customer billing information, pipelines, valves and others on the water network.
Statistical reports can be customized easily according to the individual reporting format of the water company. All the report can be export to CSV and PDF format. The report is designed to be printed on A3 size (Landscape paper) and able to be print directly using available printer.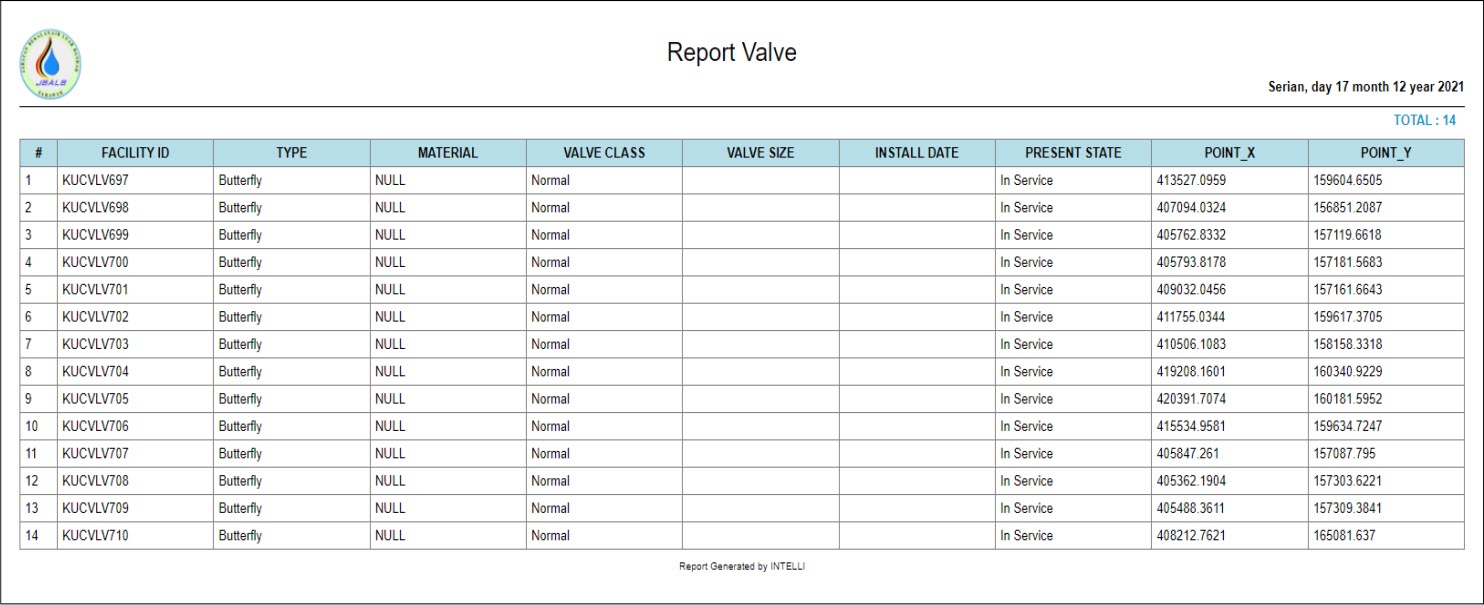 2.Billing System Management Module
This module allows to import and integrate their Billing system into Intelli Water which able to share customer information data and integrating water meter information from Billing system into GIS data. It is easy for technicians to carry out digitizing job and auto update the GIS data thus saving time as there is no need for repetitive data entry.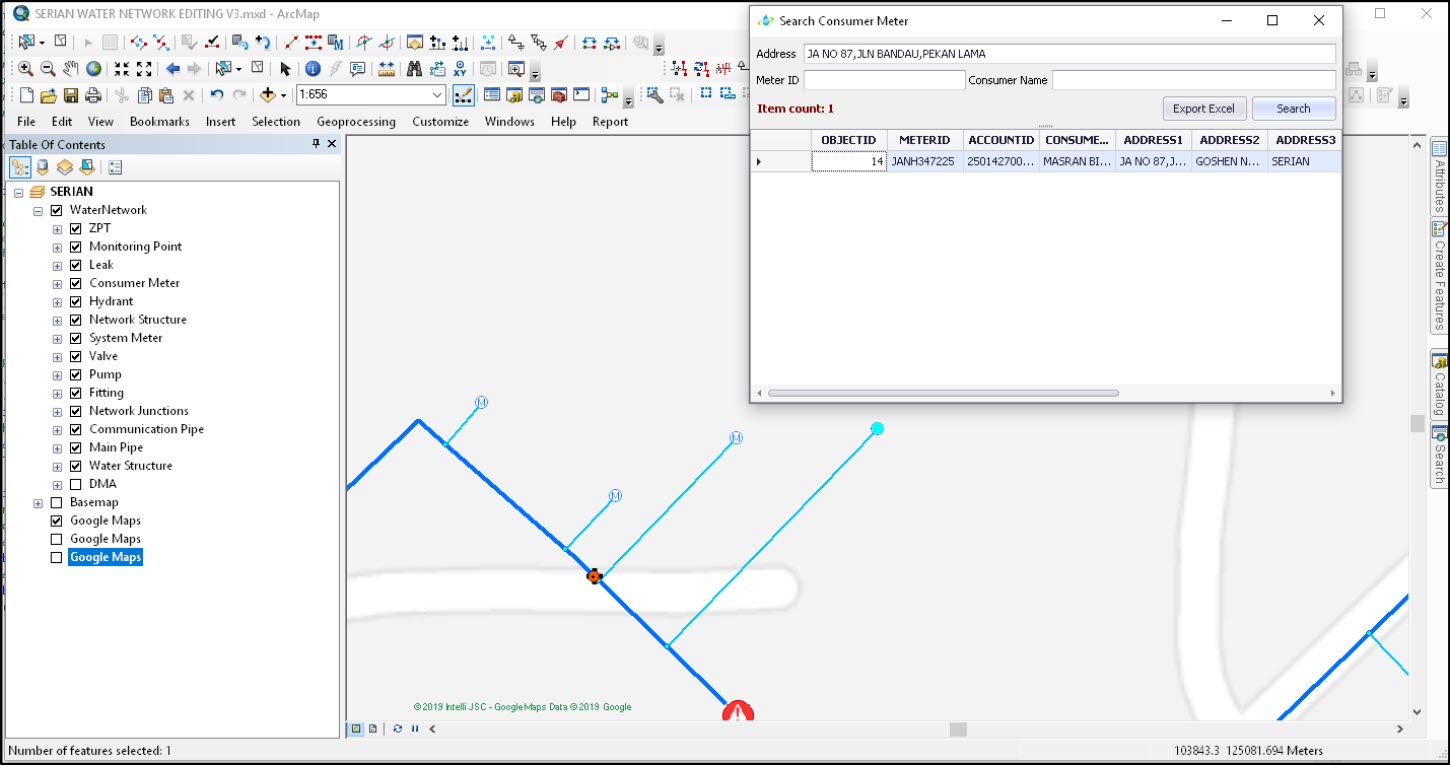 3.Water Utility Network Reporting – Valve Operation Module
This toolbar contains a series of reporting tools to improve a map technician's experience when working with infrastructure data. Included in the toolbar are tools to run isolation traces and calculate downstream and upstream flow accumulation for a main. The Water Utility Network Reporting toolbar is configured to be used with data stored in the provided schema. However, these tools can be modified to work with other datasets or to perform additional functions.


The valve operation simulation allows the operator to determine which valve to close to isolate water network. The result of valve operation is the selection set included customers who are water outage, pipelines and affected equipment. This result will be used to communicate with affected customers, by that improving the quality of customer service.
The advantage of this function is that the operator of the water supply company will be able to know which valve to close, the water outage area when closing the valve just by one click. Fastly summarize and report affected customer, pipes and equipment and easily share this information to another department via excel and pdf files.
Intelli Water GIS Web Platform
Intelli GIS web allow user to manage their data and water assets. The Intelli GIS web allow user to access information on-the-go, gain water networks information and make prompt decision. As a common task that customer will perform as an ArcGIS user is to utilize web GIS and web GIS applications to make the services available to others within and outside the organization. The user will design and create these web GIS applications using a wide variety of resources, and the end users will use these applications to address any number of questions, missions and problem.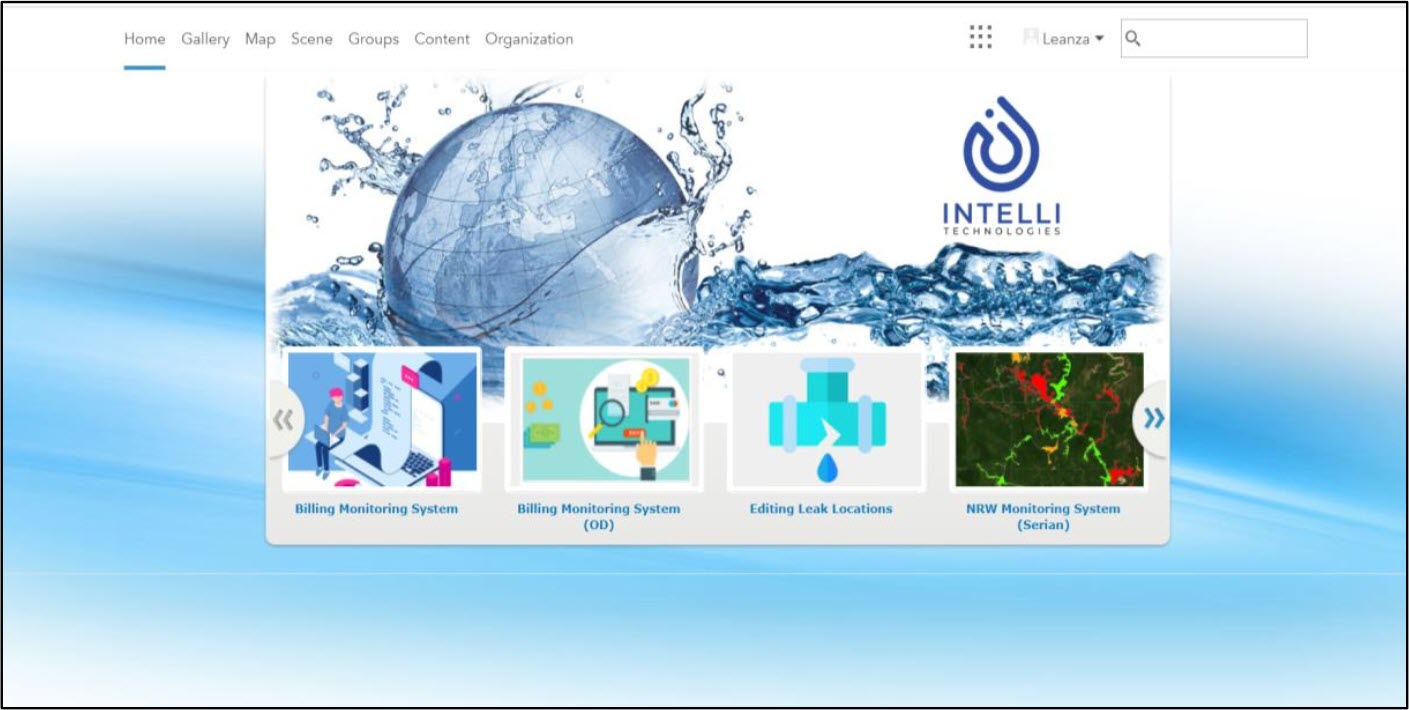 1.Telemetry Point Monitoring System Module
Telemetry point monitoring system was a system that able to track and analyze historical data for each logger that are onsite. The Intelli Water System supports reading and monitoring information of flow, pressure, water quality sending from dataloggers on network. The system support integration with data loggers from various vendors which are Cello, Primayer and others. Water authority able to setup range of reading, exceeding values. Data history is also available for reports or statistic as well as exporting to other format. By using Intelli water system, it is easy to search and lookup details of loggers whereby all processed information will be clearly and properly defined spatially, either thru the Web Portal or the Mobile apps, by using available logger database.
2.Leakage Monitoring Module
Leakage monitoring are system that able to track and analyze historical leaks that are onsite which include the time and report date of leaks. The site workers can categorize the leak as 'Outstanding' after they found out leaks that are onsite and categorize the leak as 'Repaired' after they repair the pipeline. By using Intelli water system, it is easy to search and lookup details of leaks where the system will state the damaged types of pipeline, the location of the pipeline, the size of pipeline that are burst and others.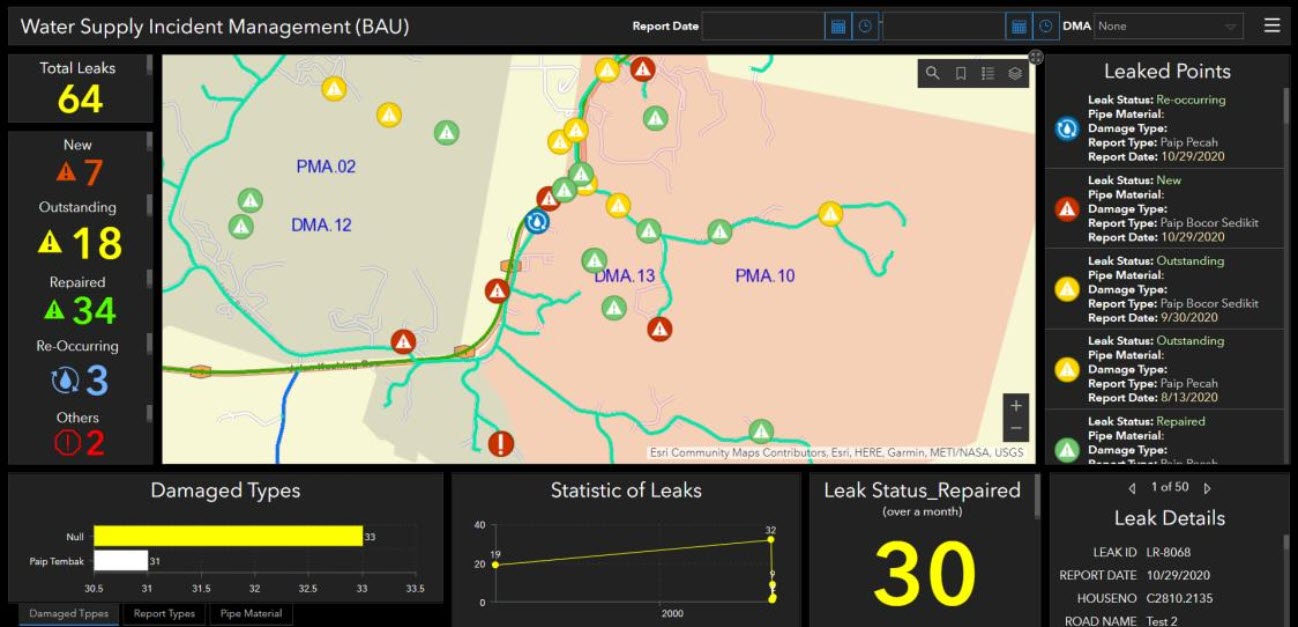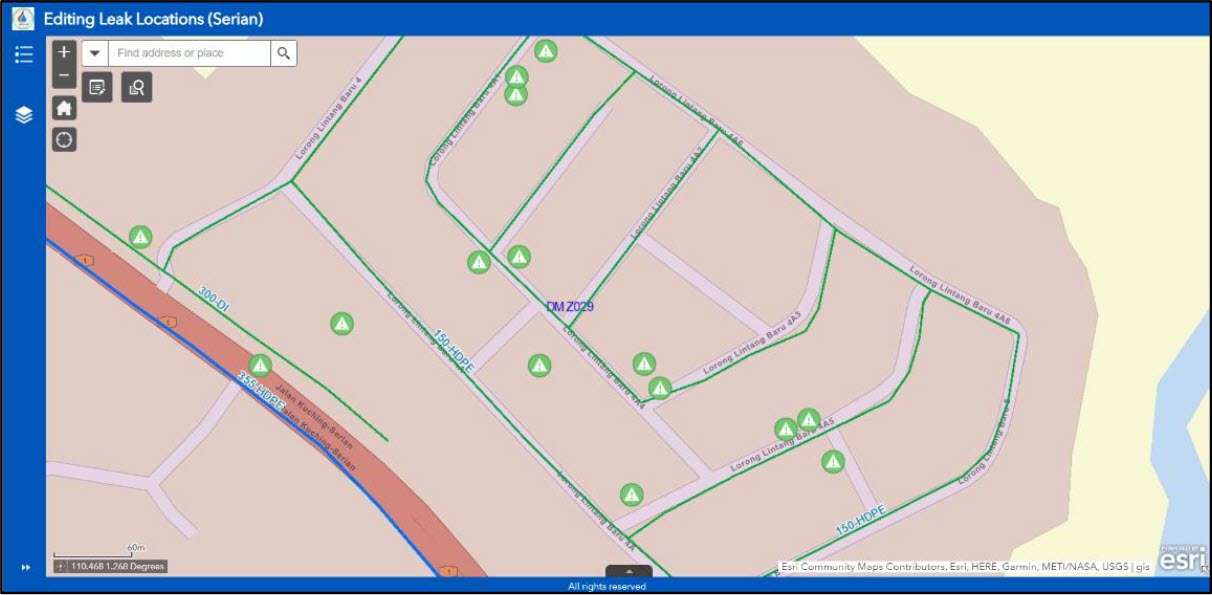 3.Non-Revenue Water (NRW) Monitoring Module
The Intelli water able to display the NRW percentages automatically and assigned color scheme which enable quick identifications of high NRW DMZs for prompt follow up actions. Each DMZ will show the percentage of NRW and NRW details where we can monitor it from time to time. In Non-Revenue Water (NRW) Monitoring will show the total consumer for each DMZ.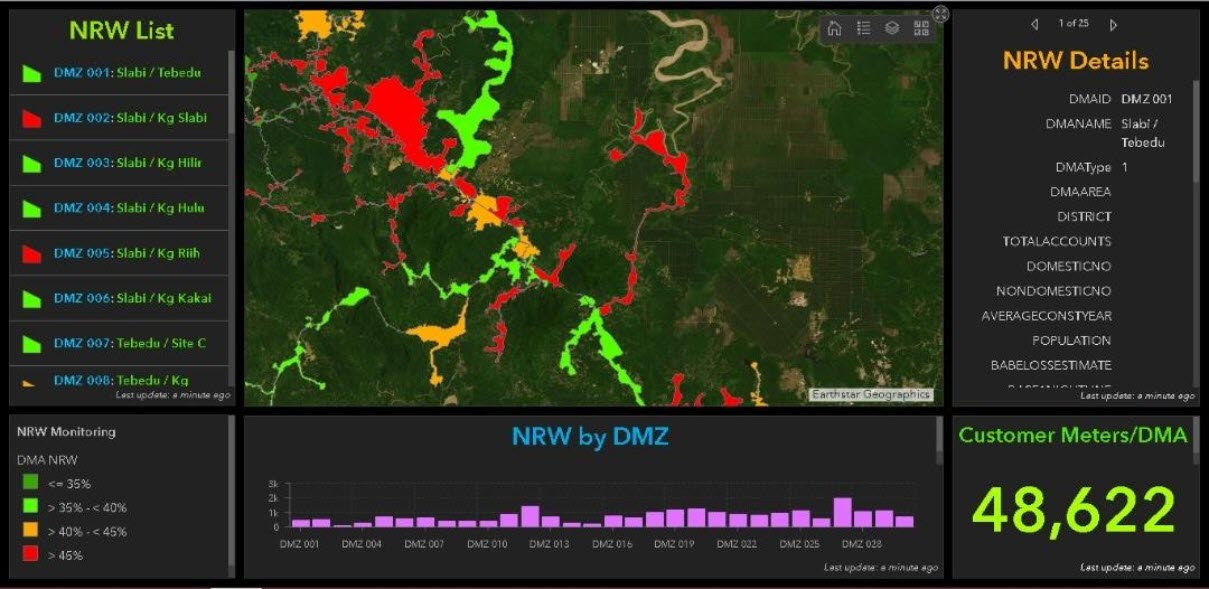 4.Meter Size and Performance Analysis
The advantage of Meter Size and Performance Analysis is that user able to track the aging meters which more than 10 years. By using Intelli water system, it is easy to search and lookup details of aging meters where the system will state the location of meter and the size of meter for each DMA and Book Number.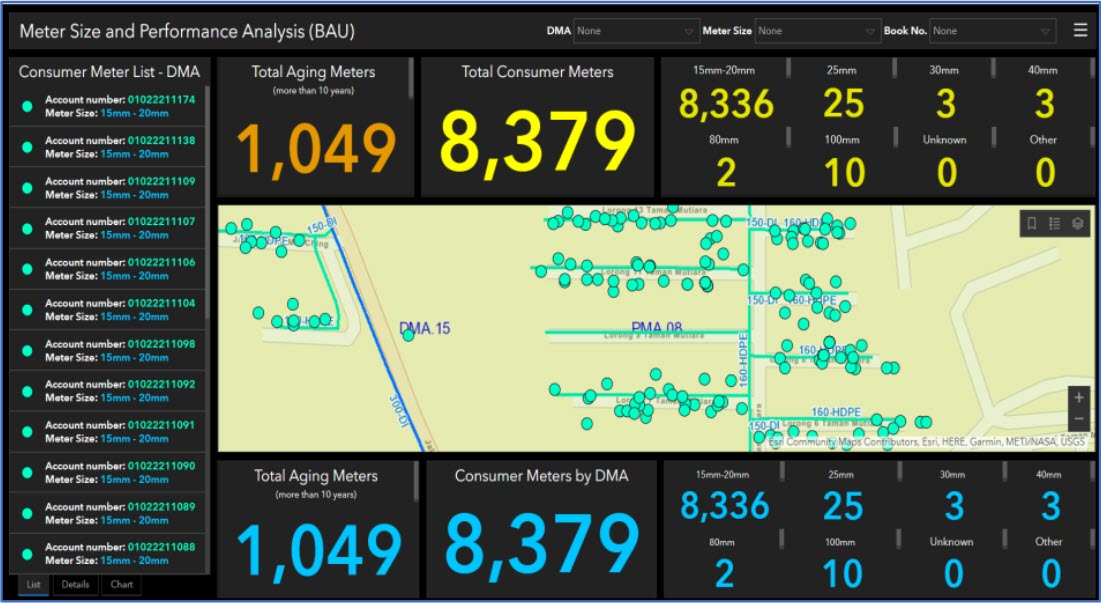 5.Consumption Monitoring System
Consumption Monitoring System was a system that integrate Billing system into GIS system for the purposes of inheriting the source of customer information data, water meter information from Billing system to integrate into GIS data. By using this system, it is easy to monitor the consumer meter by District Meter Area (DMA) as well the total consumption by DMA by (monthly).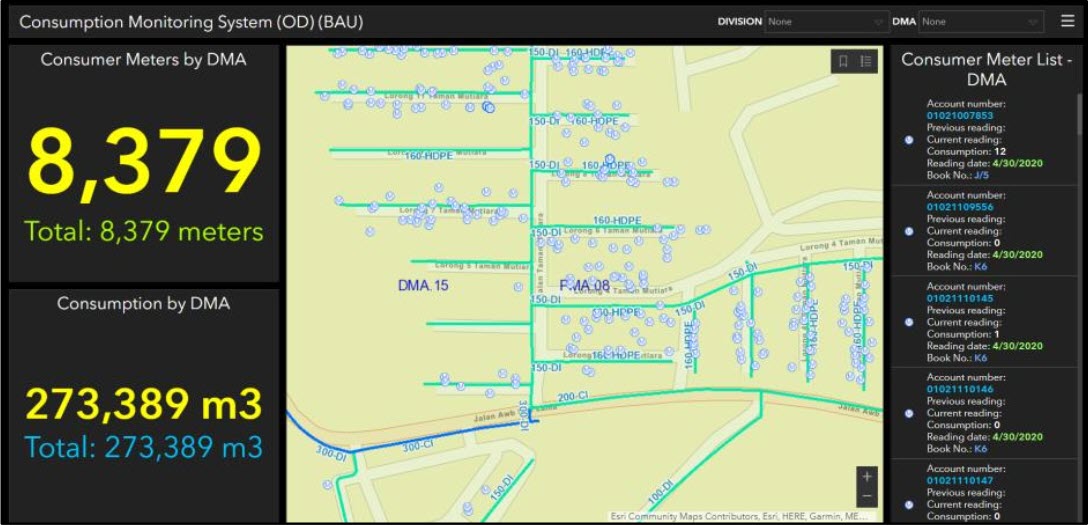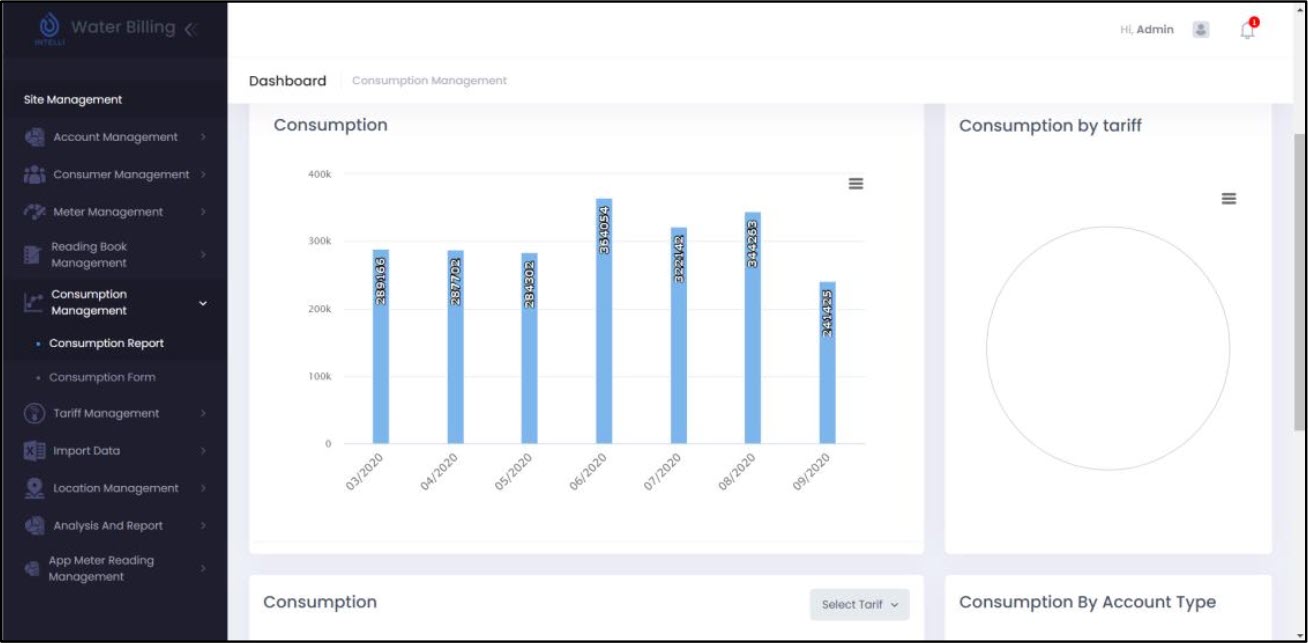 6.Water Network Management System
By using this application, the user able to view the status of water asset. Each DMA able to show the total main pipe, total consumer meter, total valve, consumer meter status and valve status. This system very useful to track the consumer meter and valve status condition whether it is in service or vice versa.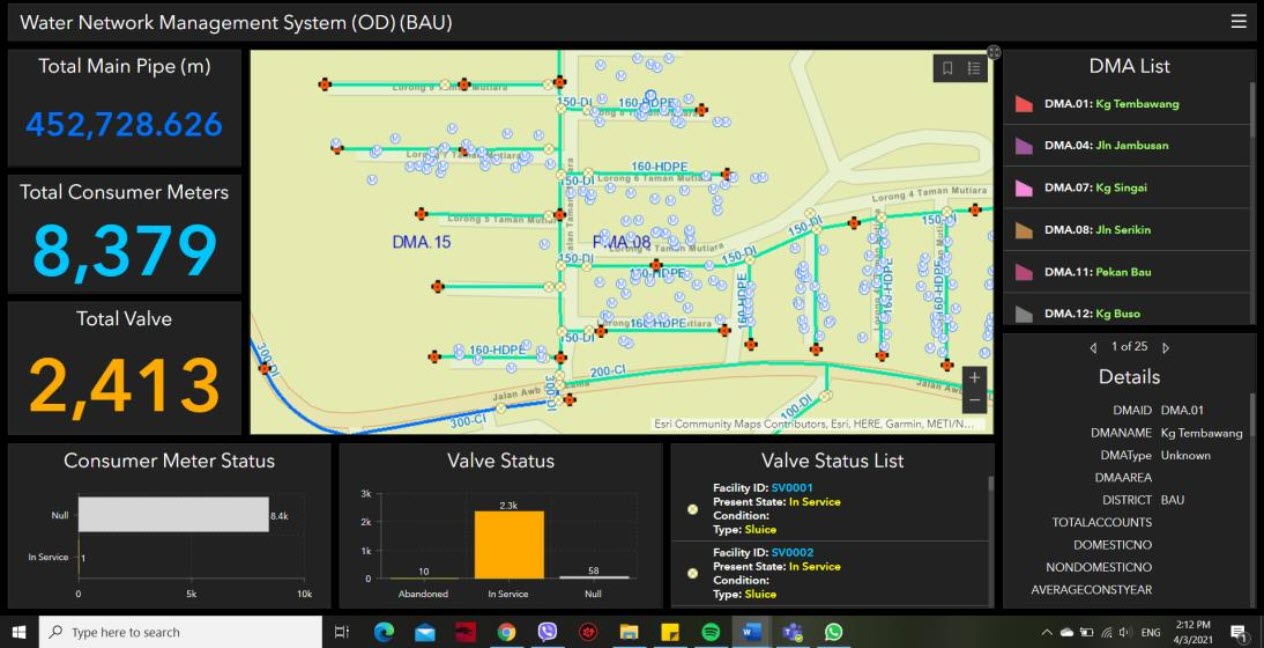 7.Water Asset Management System
Water Asset Management System was a system that user able to update all water assets on site. The user also able to do quick statistic tasks based on customer's information, pipelines, valves and other assets on distribution network. All the reports are able to export into CSV file.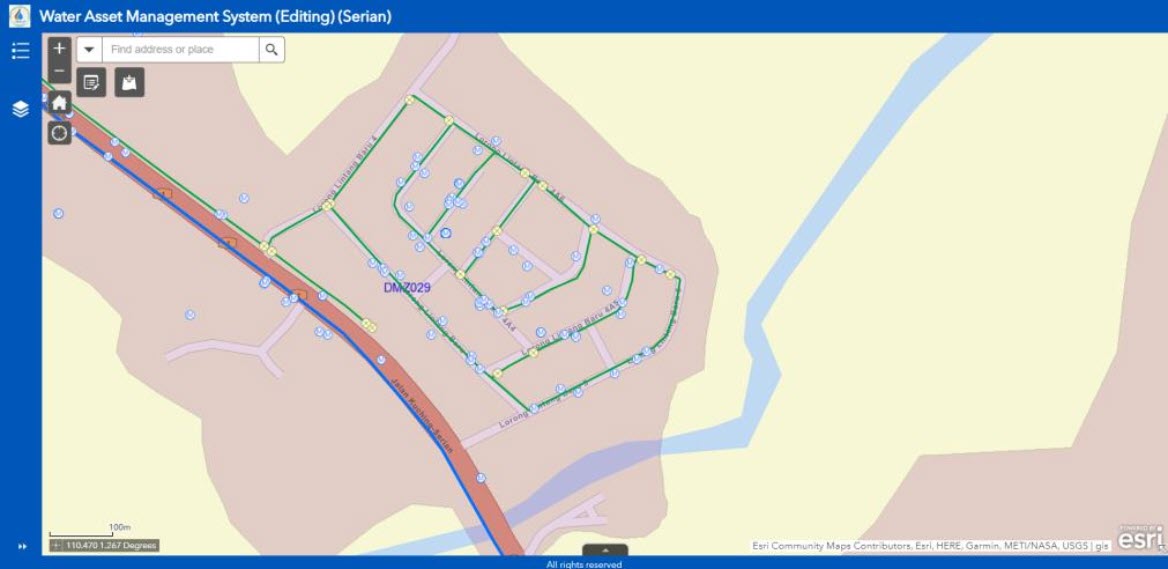 8.Non – Revenue Water Monitoring System (IWA)
By using this application, the water loss rate will be calculating and updating into GIS database for mapping and sharing to Web GIS application. Thereby, the water utilities will have visual perspective and easily analyze and evaluate the situation of DMA areas with high and low rates to plan for water loss reduction.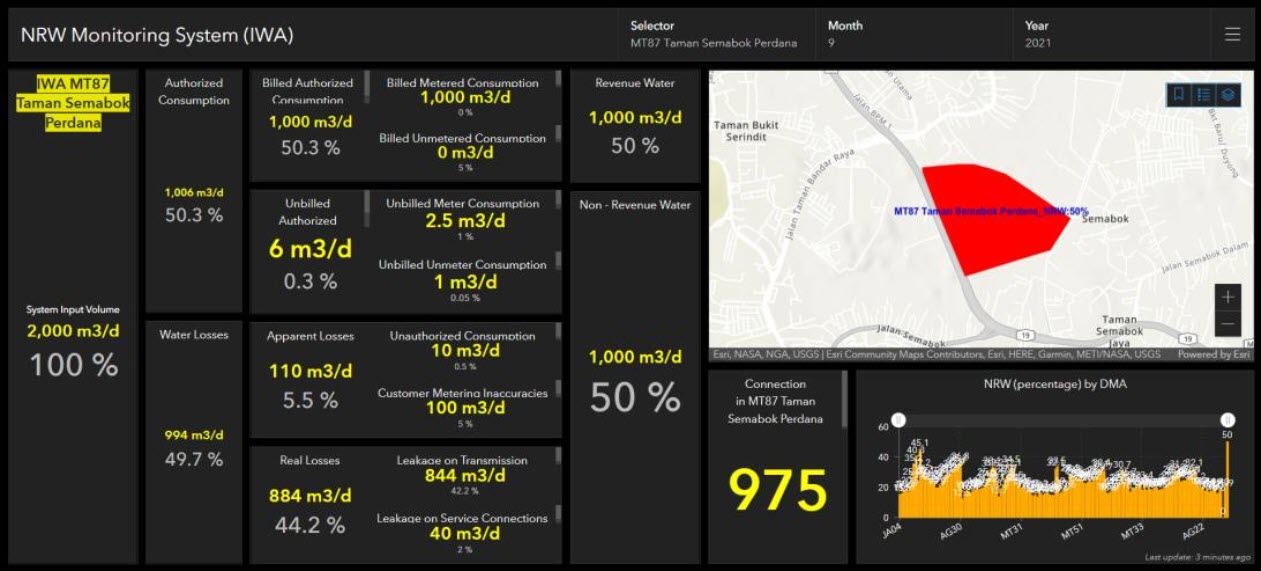 Intelli Water GIS Mobile Platform
Intelli Water mobile version support users in monitoring, view and updating data purposes which can be used for both Android and iOS mobile devices. Users can use the GIS anytime and anywhere which can turn result in faster response time and decisions making. Your authoritative data deserves a solution as specialized as the insight it provides – ensure that your teams, in the field or the office, are using the same data to reduce errors, boost productivity, and save money. Ready-to-use ArcGIS Apps will get the job done through their sheer focus, geographic awareness, and readiness to work. If none of these meet customer's specific needs, we have tools that users can take advantage of to build their own apps.
Real-Time* Monitoring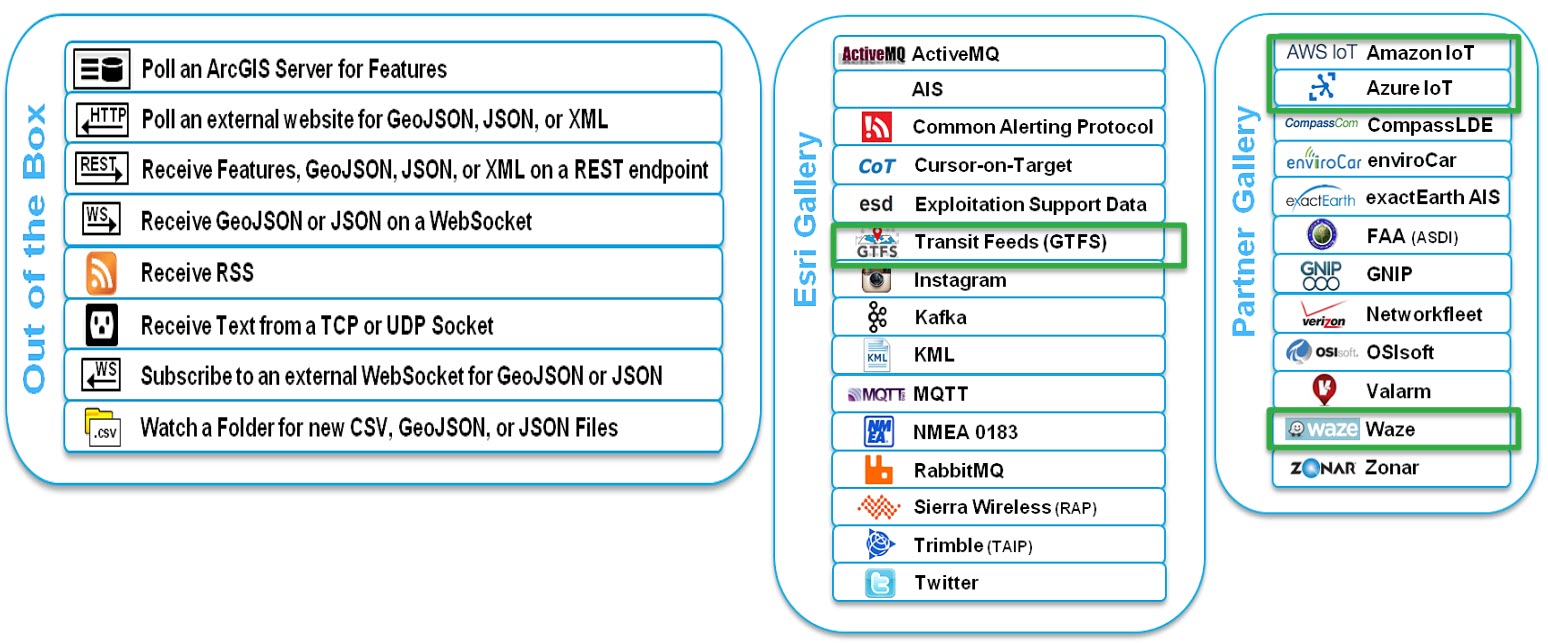 1.Data Loggers Monitoring Module
All the data loggers will show the real time data on the map where we can monitor the loggers from time to time. It can be define the limits by colour which easy to spot "alarms".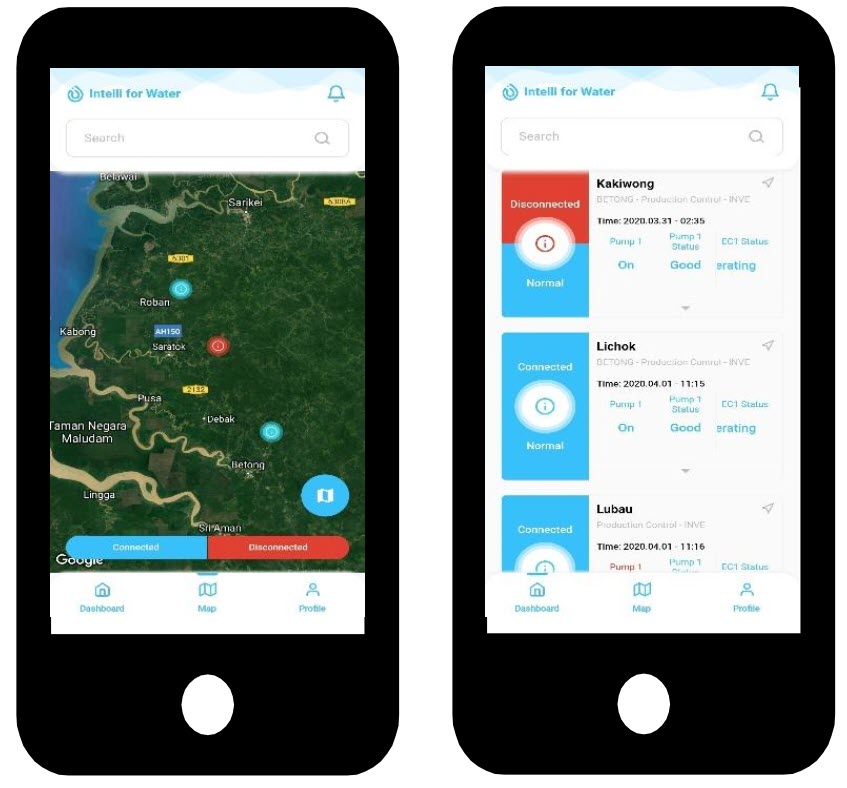 2.Leak Incidents Information Management
Site staff can easily update incidents/leaks information by using Intelli Mobile application. By using the Intelli Mobile application, the site staff able to categorize the damaged types of pipeline, the location of the leak incidents, as well as attach the image of leak incidents. Leakage data will automatically be synchronized between Mobile GIS, Web GIS and Desktop GIS.
User can view, query, report, get statistical information and leaked points based on process status, leak types etc.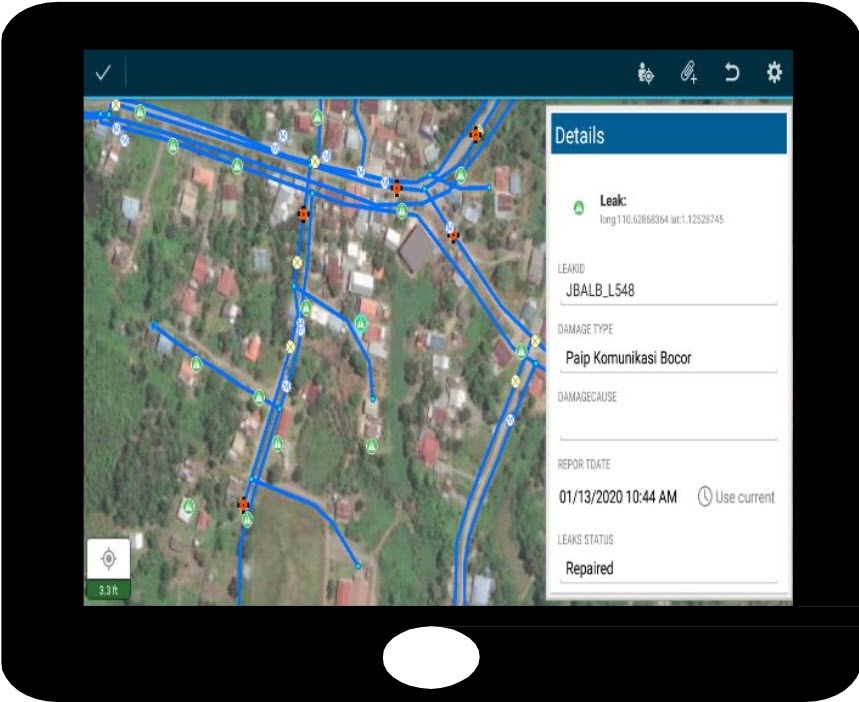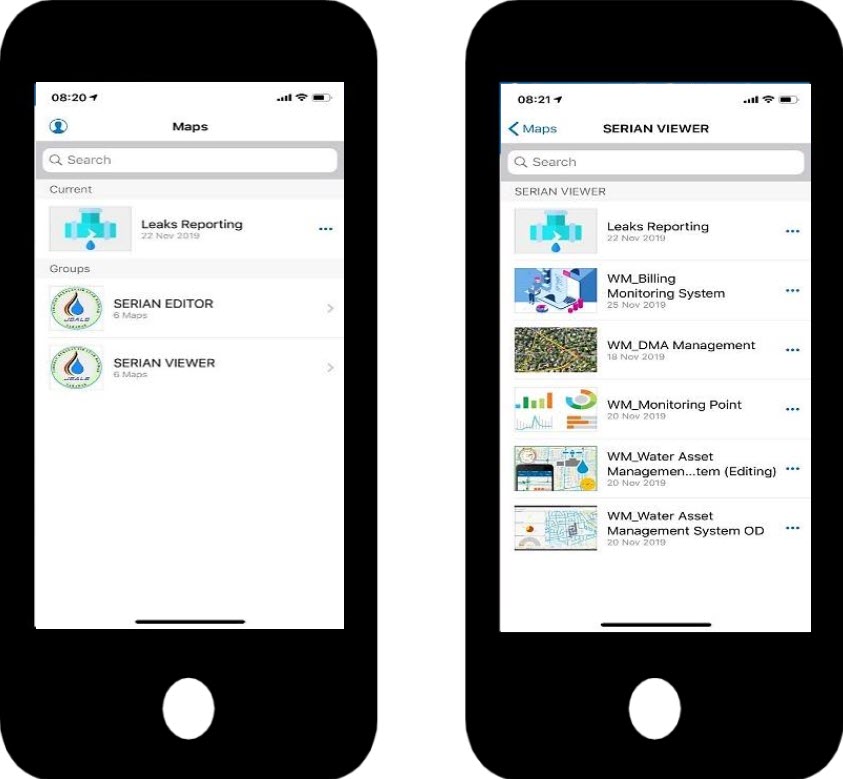 3.Water Network Editing & Updating Module
Editing and updating water network asset can be done by both nonspecialized GIS staffs and GIS technicians. All field staffs (non-specialized GIS) can easily manage data collection and tagging of water asset by using mobile app on their mobile device.
All information will update from mobile application or desktop application where will be synchronized in GIS database. Thus, users can easily share, access the same GIS data between all platforms from desktop to web and mobile.